About following passion, moving to a foreign country and slow life. Probably not everyone would stand this pace of work, not everyone would hesitate to emigrate. But maybe it is a real life?
When I moved to the beach with my office for a few weeks I did not know what would happen to me. However, this Canary Island has surprised us several times. Willing to know better how people who don't have to leave after a week or five. One of them, my surfing instructor, I interviewed. Maybe you will find something for you.
Wojciech Pazdzior: You are not from here. Can you describe what did you do before coming to Fuerteventura?
Marco Locorotondo: Normal life in Italy, on lake Maggiore with my family and friends.
I worked as a sales representative for a company of a bar and restaurant equipment HACCP plan. Before that I have been working for many years as a barman. Long hours of work and crazy hours but I liked it.
What is your work now?
I'm the master of Wave Surfing. (laugh)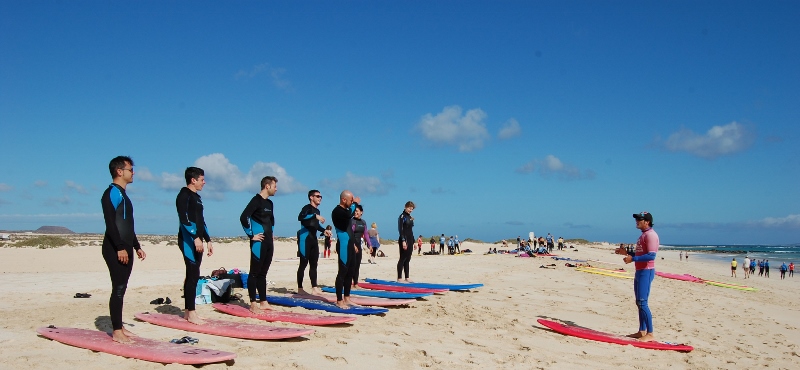 Why did you decide to completely change your career?
My family town is a small place between Milan and Alps. It is beautiful and with a great people living there but there are only a few interesting companies. And I have a big passion for board sports like snowboard and surfing. When I was thinking about change I knew it can't be just a job but the job. I want passion in what I do and my growing passion is the Surf.
Was it difficult to leave your country?
Moving from home is not difficult, living in another country can be complicated ... but I love Fuerteventura and all its different people. There is nothing big on this island and I don't need anything big at all.
How is life in Corralejo? Is life on the island hard?
Life in Corralejo is very simple, you live in a small town where everyone knows each other. It is really easy to live here. Everything is near. You can get to the second end of the island in 1h or fly to Tenerife, Madrid or Milan. Streets are safe, we don't have too many car accidents or acts of vandalism. It is not a problem to live here with kids, you don't have to worry about them too much. We have school here or on the neighbouring island where your kid can get by a cheap boat with dozens of other children. It is like a bus here.
Most people you can meet on the street are tourists so you can't make friends with all of them because it can be very hard to start and end relationship so quick and so often. But you can find lots of great people living here not only Spanish. They came from UK, Ireland, Germany, France, Italy, Czech Republic, Hungary and Poland too.
Amazing in Fuerteventura is that there are all the elements of nature - water, air, earth and fire. It's a place full of energy in motion and you can fill that. The island is surrounded by the ocean what gives you a sense of freedom but can also be some kind of a walls and some people would like to escape. Of course this is a fuel for my love to SURF and I love to share it.
What about job? I suppose there are no big companies here.
If you want to make a huge career and climb a professional ladder you can have a problem with finding a proper job. There are companies in bigger cities but not huge corporations.
But if you just want to work, live and enjoy life it is not hard. You can find a job and change it fast if you want. What is surprising, cost of living on Fuerta is much lower than in Italy or UK. You can rent a flat with a bedroom and living room even for 400 Euro per month with no extra costs. Earning 1.000 Euro is enough to live comfortably and everything above you can invest or do something else.
For you Wojtek and people who can work remotely it is a perfect place. Even corporations organize workshops for their managers here. (laugh)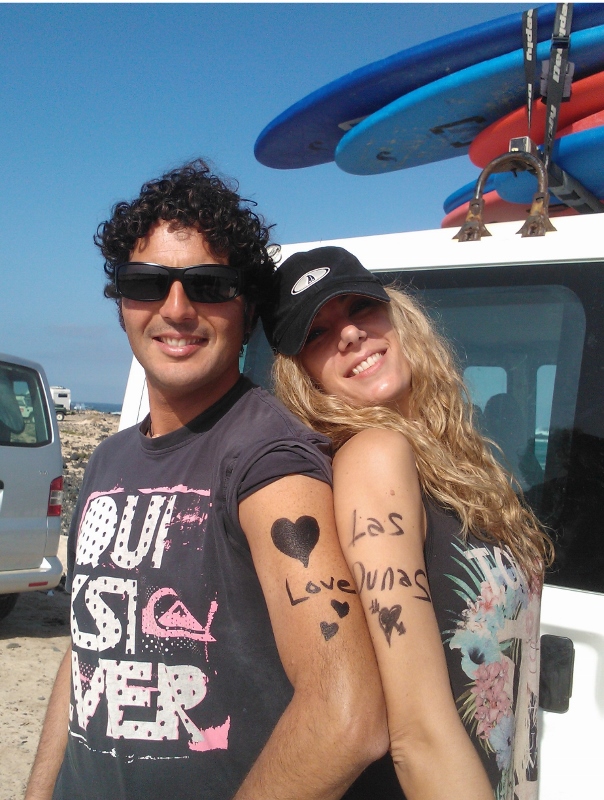 How your typical day or week looks like?
Here the pace of everything is slow... breakfast early in the morning, surf lessons, snack and if there are still beautiful waves surfing if not training. If needed I do shopping, cleaning, learning or I'm doing some formalities. Easy and health life, good food, sport, cerveza with friends.
What do you mostly dislike in your life style?
I don't have my own family yet so I miss my family. But they love me and I do love them.
What do you mostly like in your life style?
Contact with nature and true things, true life, the smiles and time to discover new friends.
Marco, thank's for your lessons and for sharing your story. I'm sure I will come here again and I hope to run some workshops for my clients here too.
LA OLA